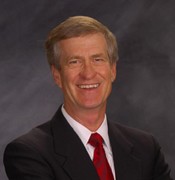 Rick
Burcham
Vice President - Investments
Rick provides a disciplined planning and investment process for his clients.  By listening, he helps them discover, identify and prioritize core values and key emotional issues so they can make wise financial choices with confidence, understanding and trust.    
His twenty years in banking taught him the importance of the confidentiality of client information.  His continuing education and professional designations have provided him with insight into the ever-changing financial environment.  His work with charitable organizations offers him the opportunity to see the impact that gifts make in donors' lives.
Rick can be reached in Las Vegas at 702-505-8075 or in Rapid City at 695-342-5792.